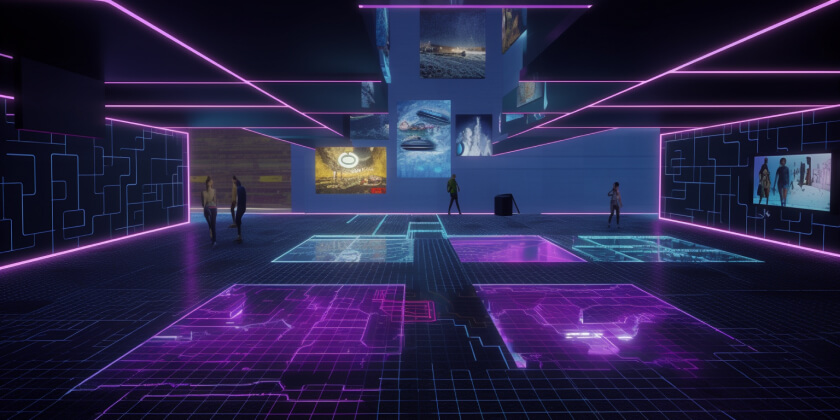 NFT Projects
Find the ways to make your NFT project to be on the top with HyperID
NFT industry experiences growth and an increasing number of individuals express interest in participating in this space, both as users and service providers. When talking about the problems of the latter, it must be said that developing a successful, safe, and legal NFT platform is a complex undertaking that demands specialized knowledge, practical experience, and a profound comprehension of the unique challenges that arise in this field.
We have pinned down a few common NFT platform pitfalls that can be negated with HyperID.
Various individuals are drawn to NFT platforms, including innovators, creators, the curious, and unfortunately, individuals seeking fast money.
Fraud is prevalent even on large and well-established marketplaces, with the potential for scammers to impersonate NFT creators and sell counterfeit artwork. This significant issue causes substantial financial losses for participants and damages the reputations of service providers. This is where HyperID steps in, helping platforms facilitate a strict verification process to prevent platform users from buying into fraudulent projects and purchasing replicated NFTs.
HyperID has the capability to enhance user safety and security in these ways:
Store user sensitive data encrypted in HyperID account
Provide and revoke access to this data to different service providers, managing all existing sessions and granted permissions
All transactions inside HyperID ecosystem is eligible for additional MFA checks on user device preventing fraudulent transactions
NFT enthusiasts frequently find themselves searching for different crypto platforms and launchpads, which can involve enduring lengthy sign-up procedures and verification processes.
Some platforms require users to furnish personal information such as government IDs, phone numbers, and, on occasion, their address, without providing any guidance. Consequently, creating an account, navigating verification, and other subsequent activities can prove challenging for users, leading to suboptimal user experience. This situation compels individuals to search for more user-friendly solutions that meet their needs.
HyperID tackles this problem from a variety of angles.
First of all, It lets users to securely log in to your system with email, Google, Facebook, Discord, and other social media accounts​
Classic Web 2.0 users are able to immediately and seamlessly receive seed phrase, get it backed-up and create wallets for all popular chains automatically even without knowing it
Web3 users are able to log into the system with all major wallets and from all popular chains, start using it and continue adding user data when necessary
It also enables gasless transactions to engage your users from the very beginning, allow them to start interacting with the system and make sure they dived into all your main activities!
HyperID-based chat solution also empowers users with an opportunity to write to the rare NFT owners, ask them to put their NFTs on sale and even allows companies to text directly to their users' wallets.
It is fair to assume that the regulation of NFT markets is not well established yet, but global regulations over art, digital assets, and antiquities, especially regarding anti-money laundering have been vastly extended lately.
Given that NFTs are now used in various ways and spheres, the creation of a regulatory body may become an urgent question, with regulators imposing new rules on marketplaces and NFT platforms. Taking into account the high costs of non-compliance, market NFT players must engage in rigorous preparation ahead of time, and be proactive to meet legal compliance needs.
Platforms may get scrutinized for mismanaging or failing to protect user data. Additionally, data protection laws clearly state that users must be able to fully delete their private information and wholly revoke access from the platform, should they wish to do so.
HyperID allows you to:
Avoid the necessity of storing user data, accessing it only when necessary upon user confirmation
Request your user KYC data on several levels of authentication - from documents upload to liveness check
Receive depersonalized KYC info on-chain with the MultiPass solution with no oracles needed
Send specific signature requests to your users, allowing them to digitally sign documents and agreements with additional level of security
NFT marketplaces and platforms are not spoiling their users with numerous payment functions.
Even though they are able to accept payments through a wide range of options, like credit cards, debit cards, online banking, and many wallets, they still do not allow users to pay in more crypto-related ways, and force users to engage in a complicated quest of generating a plethora of accounts on various platforms, wallets included.
With HyperID, no wallet app is necessary on the client's side, and you can send transaction signature requests directly in your app with HyperID API.
Additionally, HyperID allows you to reuse KYC data for several aspects, like controlling your payments flow, allowing users to purchase assets NFTs with credit cards, purchase gas with crypto or fiat, etc.