Use Single, Secure, and Passwordless Way to Authenticate
Manage Single Sign-On Sessions with MFA Protection
Generate and Store Encryption Keys in a Distributed Fashion
Connects Web 2 and Web 3 Worlds
This cutting-edge solution enables users to securely sign in to any service with a single Web 2.0 & Web3 account, while maintaining ultimate control over their personal information. Whether you're interacting with conventional Web 2.0 applications or decentralized Web3 blockchain-based applications, HyperID makes it faster, easier, and more secure to register and authenticate.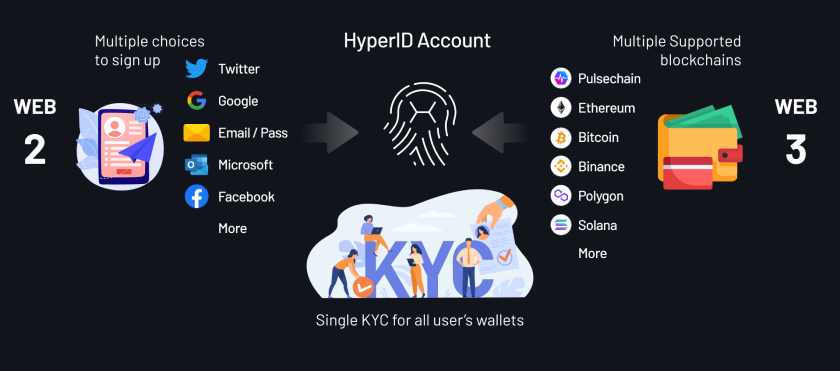 It bridges the gap between casual users who are used to conventional Web 2.0 authentication and new Web3 world with it's must-have crypto wallets, dApps in different blockchains and compliance procedures necessary.
On the other hand, HyperID simplifies crypto users and companies connection to traditional finance and law, allowing to tie your wallets to one entity, pass Know-Your-Customer (KYC) / Know-Your-Business (KYB) for all of them, provide Web3 services with temporary access to your information for purchases, token sales, NFT trades, verifications and more.
You may start using HyperID quickly by connecting with crypto wallet as a guest account and then fill more information when it's necessary to access additional functionality and receive ultimate control over their personal information.
Log in everywhere with Touch ID or Face ID
Protect your personal data across all the services you use
Decide what kind of personal data your apps and services can access